snf.
Magic Shows - The Link Up: S1 E3
"For students, by students..."
Members of the Nuevo Cartel were invited to groove at the third epicsode of "The Link Up" and boy-oh-boy was it a lituation! One of the Cartel's very own superb spinners, Mouss, was gigging at the event hosted at The Grind Bar & Eatery on the night. This meant we had extra incentive to make it a special one.
Mouss span at the venue till everyone got dizzy.
Landing at the location was a shock because the line outside was insane. I'm talking Black Friday packed. I'm talking lady-at-the-corner-selling-hot-magwinya-during-a-cold-front packed. It was nice to see that the security on the day was as strict as security should be. If your plan is to pull up and do nonsonso fela, then you might as well stay home, chief. Luckily, the members of el Cartel had no trouble getting in since... I mean... Nuevo Cartel? As in... New Wave Cartel? Come on, suhn...
le Cartel
We thought it was a mess outside but that was just a precursor to the chaos that was inside the venue. Clearly, the marketing for the event was a pure success because it seemed like the whole of Hatfield had been in attendance. From lovely ladies to dripped-out gents, the scene was one to behold.
The people came to Link Up.
Mouss kept the people moving and the drinks kept the pots stewing so we all just kept grooving! Check some of the images below to see what we mean when we say "It was littttt @ The Night Show!!!"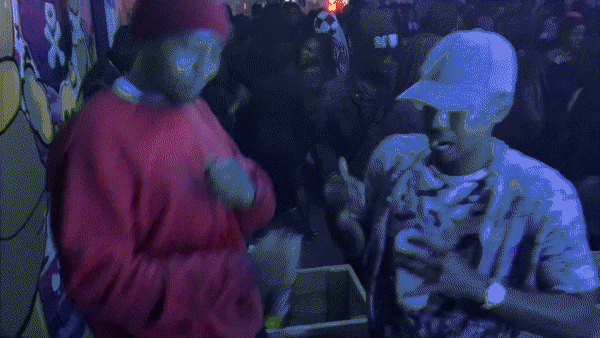 Mouss kept the people moving.
The venue was... well lit?
'Till we Link Up again...